MUSIC city FIJI GRADUATE CHAPTER

Welcome from the recently formed Music CityFIJI graduate chapter! A group of brothers has been having lunch the last Thursday of every month at Corky's in Brentwood somewhat consistently forr the last few years years. Why Corky's you might ask? Well, I suppose it's our little miniature version of Pig Dinner once a month to help relive some of our fond memories, and what better place to do that then somewhere with great barbeque? We decided back in the spring to form an official graduate chapter from this band of brothers, and the Music City Graduate Chapter was born.
Our current officers are:
President: Don Marsee, Theta Tau '88 DMarsee@tractorsupply.com
Treasurer: Hal Balthrop, Theta Tau '84 HalBalthrop@comcast.net
Secretary: Derek Johnson, Theta Tau '94 Derek_Johnson@comcast.net
In addition to the officers, some of the more frequent attendees have been Bennie Copland, Joey Czarneski, Todd Arrants, Scott Stapleton (the good looking Stapleton), Brian Douglas, Stacy Hunt, Phil Wallace and AJ Bahou. There have been several other brothers who have been able to make it from time to time, as their schedules permit. Brother Douglas has even been able to recruit a couple of brothers that he works with, from other chapters, Clint Southern, Gamma Tau '02 (Georgia Tech) &  Rodreich Stotensburg, Beta Gamma '91 (OhioState). We have also had a few members from the newly chartered Chi Eta chapter at Western Kentucky University attend as they have time as well. Since a lunch time meeting is not always convenient for some, we have recently begun to organize other events as well. Our first attempt at this was a trip to the Nashville Sounds on June 17th. We plan on organizing more events like this in the future, so if you are interested and would like to be included in our email blasts, send me a note to: Derek_Johnson@comcast.net  and I will be sure to get you added to our distribution list.
Our meetings are really geared towards getting together and spending a little fellowship time with our brothers. The most formal part of our meetings so far has been saying grace before we eat, and since our appointed Chaplin, Keith Edmondson, moved out of state a few months ago, we have been skipping that formality as well. Our intent is to keep things informal and relaxed, so if you are in the area and would like to break bread and relive some old memories, stop by Corky's at 11:30 on the last Thursday of each month. If you can't make it one month, come on the next, some of us are certain to be there. Come and help us live up to the motto of "Not for College Days Alone"!
Perge'
---
---
Chattanooga Fiji
Click here for the Chattanooga Fiji Website
Our Chapter was formed in 2011 with these goals in mind: To bring all the Phi Gamma Delta Graduate brothers in the Chattanooga area together in order to support a continuing spirit of brotherhood and to live by our "Not for College Day's Alone" motto, and also to help support a possible colony expansion at UTC.
OUR GRADUATE CHAPTER HAS MEMBERS, (AT LEAST ONE
EACH), FROM THE FOLLOWING UNIVERSITIES, AND 15 FROM THETA TAU AT TENNESSEE TECH.

Contact Us

Chattanooga Graduate Chapter – The Fraternity of Phi Gamma Delta

If you know of anyone who lives in the Chattanooga area, but is not on our mailing list and should be, or wants to be, please let us know,

email us here: Chattanooga Fiji
---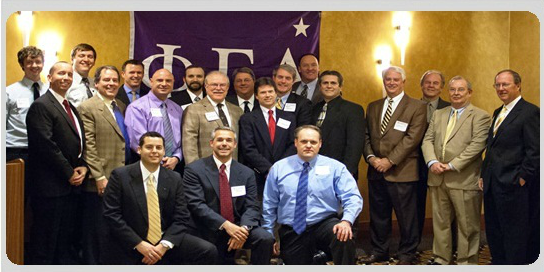 Fiji Alumni Chapter  –  Knoxville, TN Area
Brothers,
As some of you may or may not know, we are starting a Theta Tau graduate chapter in Knoxville . We have already met several times for dinners and as there is no solid date set that suits everyone's schedule, we usually get together once a month. The dinners have been a great success and we continue to get more graduates to attend every month. A big thanks to Clark Denson, Preston Cloud, Jarrod Chapman, Matt Graves, Todd Weaver, Matt Osbourne, and Jimmy Nelson for helping make this happen. There are plenty more graduates in the Knoxville area and we will hopefully be able to get them out in the coming months. If you do live in Knoxville and you haven't heard from me, please contact me so I can add you to our email distribution and phone list. TFI really does believe that the formation of Theta Tau graduate chapters is very vital to the success of our undergraduate chapter and the brotherhood that takes place has really helped to remind me what is important and Phi Gamma Delta is NOT for college days alone. We all look forward to hearing from you!
Fraternally,
Christopher Weaver 01 pgdfiji@hotmail.com ; cweaver@geo-marine.com 865-803-8627
perge!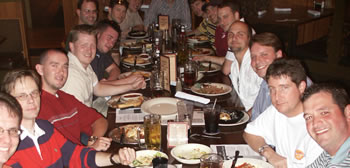 ---
---
Fiji  Alumni Chapter  –  Huntsville, AL Area
We are currently starting an alumni chapter in Huntsville, AL. There are currently over five graduate brothers that frequently meet and as more brothers move into the area, we would like this group to grow. Keep checking back to see upcoming events as we formalize this group,
Fraternally,
George Titsworth 04
titsworth@gmail.com ; titsworth@ttufiji.com 931.265.4864
Perge!