DISTINGUISHED FIJI AWARD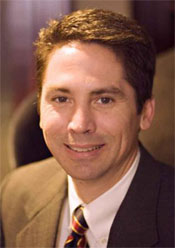 The purpose of the Distinguished Fiji Award is to recognize Brothers for their special contribution to mankind and society at large. It is for that reason that I would like to nominate Dr. David W. Olive, President of Bluefield College.
Before beginning his professional career in higher education, Dr. Olive, a licensed attorney who holds a Doctor of Jurisprudence degree from the University of Tennessee, worked in law firms in Tennessee and Kentucky for six years. He is an ordained minister with a Master of Divinity degree from Southern Baptist Theological Seminary in Louisville, Kentucky, and served two years as an interim and associate pastor for First Baptist Church in Georgetown, Kentucky.
David began working in higher education at Tennessee Tech University as the Coordinator of Alumni and Development Programs. He later spent two years as a legal advocate for students at the University of Tennessee and three years as the Director of Charitable Gift Planning at Carson-Newman College in Jefferson City, Tennessee.
After leaving Carson-Newman, David accepted a position at Pfeiffer University where he has served since 1998 as Vice President for Advancement, Executive Vice President for Administration and Advancement, and most recently Executive Vice President and Chief Operating Officer for Graduate and Adult Studies. During his nine years with Pfeiffer, Dr. Olive worked closely with President Charles Ambrose in day-to-day operations of the institution, including the creation of enrollment, fundraising and budgeting strategies and in leadership for the academic and administrative processes of the adult programs. He has played an instrumental role in the growth of the university. During his tenure, Pfeiffer has expanded its operating budget $13 million, increased its annual donor support $2.3 million, grown its enrollment 40 percent, and increased its alumni giving 13 percent.
Dr. Charles Ambrose, president of Pfeiffer University had this to say about Brother Olive: On November 2, 2007 Dr. Olive was inaugurated as the 9th President of Bluefield College. Dedicated to being Virginia's premier Christ-centered liberal arts college, preparing critical thinkers and transformational leaders to impact a changing world, Bluefield College offers a challenging, innovative academic and co-curricular experience within a climate of diverse Christian tradition. The college's accelerated degree-completion program for adults offers degree opportunities across the state in management, criminal justice, marketing, behavioral science, and e-business and entrepreneurship.
During his inaugural address Dr. Olive stated:
"There is too rich a heritage for us to fail now," Olive said. "We have too vital a mission to pursue to rest or be content. We must tell our story. We reside in Virginia's highest town. From the top of East River Mountain and beyond, we must proclaim what God has given us and enabled us to do, and we need to make sure that everyone knows — everyone — about the awesome experience, a life-transforming experience, that awaits them here at Bluefield College…Christ-centered – Student-focused – Globally-minded. That's who we are. And, together, with hard work and God's gracious blessings and presence among us, we can only imagine – immeasurably more than we can imagine — where we are going."
Dr. Olive now resides in Bluefield, VA with his wife Kathryn, daughter Kayla, 13; and son Will, 8.