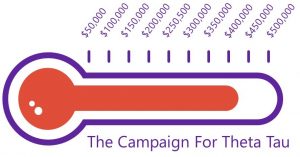 Many thanks to these generous donors to the campaign to build a new home for Phi Gamma Delta at Tennessee Tech. We are tremendously grateful for their willingness to support Theta Tau in this special way.
All graduates, parents and friends who contribute $1000 or more to the campaign will have their name included on a plaque in the new chapter home. Additionally, graduates and friends have the opportunity to associate their name, or the name of a deceased graduate or loved one, with specific areas and rooms in the house.  Here is where you can find additional information about these opportunities.
$50,000 Matching Gift Challenge
As part of a generous leadership gift to build our new home, Ann & Jay ('85) Wolverton have issued a challenge to Theta Tau graduates: they will match any gift received by Tech Fiji's Inc. through the end of 2019, up to a total of $50,000. Thanks to the generosity of Ann & Jay, your contribution to TFI before December 31st is matched dollar for dollar. As an example, your gift of $2,500 before the end of the year suddenly becomes a $5,000 gift to our new home! But act fast, as this challenge only lasts until December 31 – or until $50,000 in matching donations has been reached.