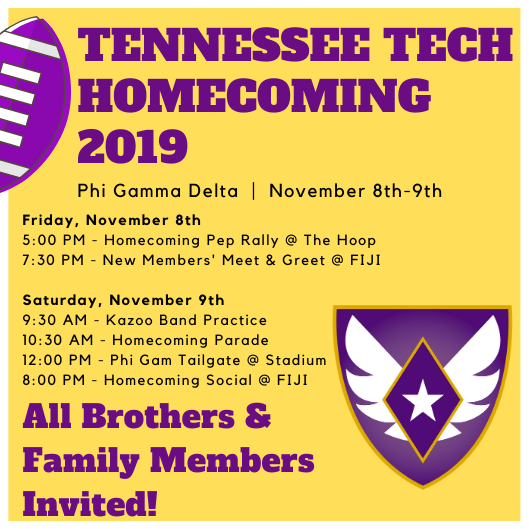 Join Us on November 8th & 9th!
The Undergraduate Brothers of the Theta Tau Chapter invite you and your family to join us for our Homecoming 2019 festivities.
Start off the Homecoming weekend as Greek Life brings back the Pep Rally Competition on Friday, November 8th, immediately followed by a Meet & Greet at the FIJI House with our newest Fall 2019 members. On Saturday, November 9th, the Phi Gam Tailgate will take place in the west parking lot of Tucker Stadium with food and drinks provided.  To wrap up the weekend, we will be having our Homecoming After-Party at the FIJI House, starting at 8pm.
Throughout the weekend, be on the lookout for surprise campaign updates on OUR NEW HOUSE!!  We've reached some pretty big milestones and we can't wait to share them with you! For more information on our House Campaign and Steering Committee, CLICK HERE or visit http://www.ttufiji.com/the-challenge/.
For more information, please contact Chapter President Landon Allison at 423-716-5496 or Purple Legionnaire Bobby Adams at 423-967-6268.