HISTORY OF the founding of PHI GAMMA DELTA AT TTU

The original 15 founders of the Delta Colony of Phi Gamma Delta at Tennessee Tech.
Seated: Dan Crunk, Jeff Garr, Doug Roberts, Lee Wray.
Standing: Travis Claud, Mickey Williams, Carl Martin, Russ Bradley, Matt Graves, Randy Wilmore, Jack Southerland, Bobby Rice, Scott Wolfe, Cory Garyotis, Tony Locke
---
---
It was the Spring of 1979 when the hopes and dreams of 15 young like-minded men came to fruition in the forming of Delta Theta Chi. So how did the founders of Delta Theta Chi meet?
Russ Bradley and Carl Martin were roommates at Tech and knew one another from OvertonHigh School. Russ and Carl knew Randy Wilmore as well as Jeff Garr, from Father Ryan, and Jack Sutherland. Much like many of us today, several of these men were all friends before forming the fraternity. Lee Wray was from Cookeville and had a class with 2 girls who were a part of the Baptist Student Union. It was through these girls Lee met Russ and became friends with them as well. The founders, as many will recall, ate lunch every day at the table by the exit doors of the cafeteria. Apparently our founders were good at meeting ladies as well, because they ate lunch with many Kappa Deltas (my how things never change). Some of the KDs jokingly told this group of non-affiliated men to start their own fraternity. What started as a somewhat serious off-hand comment would start the ball rolling in what would become Delta Theta Chi.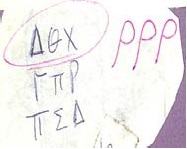 There was much discussion concerning the founding of a local fraternity, but nothing materialized until the founders met in Carl and Russ' room to form their new fraternity: Much like the Immortal Six meeting in John Templeton McCarty's dorm room to establish what would become one of the premier Greek letter societies, the Theta Tau founders met in Carl and Russ' room to form what would become one of the most respected Fiji chapters in the nation. The first order of business was to select Greek letters by which they would be known. After writing several ideas down, Delta Theta Chi became their choice. As seen on thes campus and on the international level, came from the dorm room of men like the rest of us.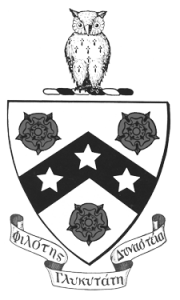 They formed this chapter with the following statement:
"We the charter members of the Delta Theta Chi Fraternity, recognizing the advantages of fraternity life, have unified our various individual interests with the purpose of achieving a common goal which is sought by many, but attained by few. This goal which consists of many facets, entails academic an athletic achievement; a willingness to serve the University and community; and a desire to instill among its members a spirit of brotherhood, which shall be passed on to all those who shall follow."
On September 8, 1979, the founding brothers of Delta Theta Chi became pledges of the Delta Colony of Phi Gamma Delta.
---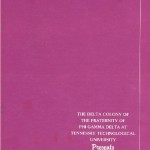 From the beginning, it was a goal of the founding members of our Colony, and later our Chapter to form a fraternity that was different from any other on campus. We decided early on that our fraternity would not serve alcohol at fraternity functions. Now this was not a total ban, because many of us did drink socially, so we all agreed that brothers who wanted, could bring their own, but that having alcohol proved by the fraternity itself created too many problems and instances of abuse, not to mention the liability. It is worth noting that as of today, all fraternities on campus have followed the lead of the Theta Tau Chapter of Phi Gamma Delta.Upon local recognition, the International Fraternity of Phi Gamma Delta was contacted concerning possible colonization.To the left, you can see the original petition sent to Phi Gamma Delta requesting that our Fraternity be Chartered. You should click the photo of the petition to open it and check it out. There are some nice photos from the early days.
---
---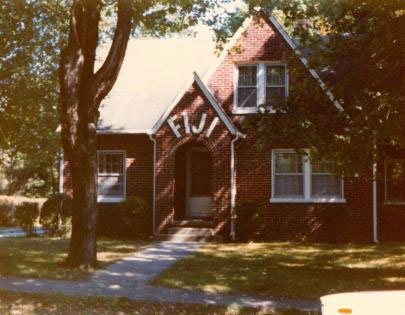 The first house was located at 421 N Walnut Avenue an and was obtained in September of 1979. On February 28, 1981, the Delta Colony of Phi Gamma Delta received its charter and then became known as the Theta Tau Chapter of Phi Gamma Delta. The Chapter later moved into the current house located at 527 N Peachtree Avenue in August of 1985, and purchased the house in 1988. In the spring of 1998, the Brothers of the Theta Tau chapter voted to become one of the Fraternity's first Alcohol Free Housing chapters.
---
Some Other Firsts for Theta Tau!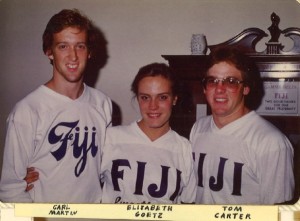 First Theta Tau Sweetheart

Elizabeth Goetz, with Carl Martin on her right, and Tom Carter on her left.
---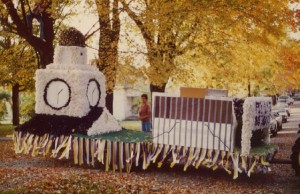 1st homecoming and first homecoming float winner
Fiji and KD cooperated to win best homecoming float in 1979, as Cory Garyotis rides.
---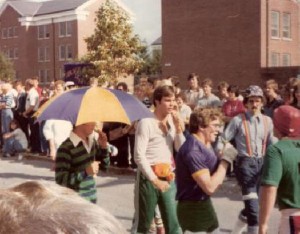 The first TTU Kazoo Band

In the photo: Carl Martin, Sanders Watson, Tom Carter, Steve Wilson, David Wheeler, and Kenny Perry.
---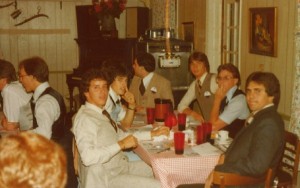 The first Pig Dinner

while we were still a Colony, Todd Arrants, Kell Stott on the left; Mickey Williams and Tom Carter on the Right.
---
 First Brotherhood Retreat
Here  is one photo from the first weekend bonding retreat the fraternity took
On the left, Jeff Garr, Randy Willmore and on the right Jack Sutherland and David Wheeler
Below: Jeff Garr, Lee Wray, Randy Wilmore, Daniel Ray, Carl Martin, and Rex Welch
---
 Mystery Date Party
Mickey Williams and Randy Wilmore, (and no Randy was not my date)
---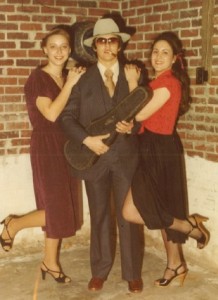 Valentine's Day Massacre Party
Our 1st "St. Valentines Day Massacre" Party. I'm guessing that PC killed this one. , left. Mickey Williams.
From Steve Wilson: As for fraternity  I think Cyndi was the first Fiji lavaliere for the Theta Tau chapter. TTU did not sell them since we were new, so Lee Workman picked one up for me in Knoxville (thanks Lee!). That would have been spring or summer of 1980 since we were engaged by August 1980. She remembers well the chapter visiting the dorm to sing for her after the engagement. Her room was 2nd floor right above the breezeway across from the UC. Probably was the first engagement sing also.
---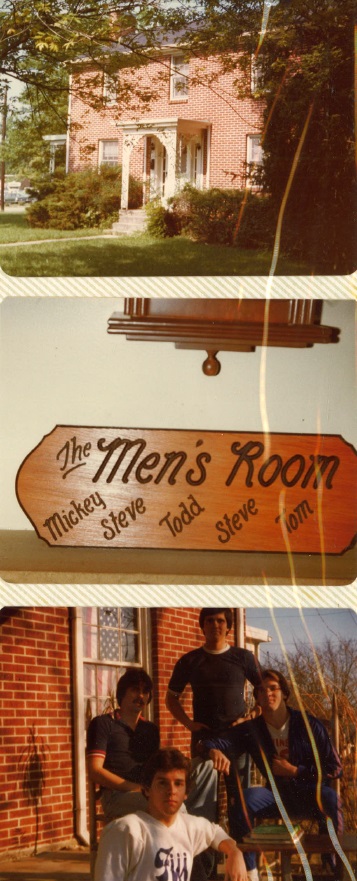 The Men's Room
Oh, and last but not least, let me mention; The Men's Room. This was a house in Cookeville which was rented by 5 of the original Fiji brothers, and a total of 8 would come to have lived there. Many have asked, "Why did you call it the Men's Room." Well, it's not complicated really. I think it was Steve Wilson who came up with the idea, he said "hey we are men and this is our room. " Yeah, told you it wasn't complicated.
Many a great party was thrown here, and for the most famous one at the time, Stephen Williams came up with the idea to send out invitations on Tech Squares. If you don't know what those were, ask an old timer.
Those brothers who lived in the house at one time or another were: Mickey Williams, Steve Wilson, Stephen Williams, Todd Arrants, Tom Carter, Kell Stott, and William Bracey, Kell Stott, and Bill Jaco
---
---
FOUNDERS AND FIRSTS AT THE 2009 PIG DINNER WITH THE CHENEY CUP
(THE 2008 THETA TAU CHAPTER RECEIVED THE AWARD FOR BEST OVERALL CHAPTER IN PHI GAMMA DELTA INTERNATIONAL)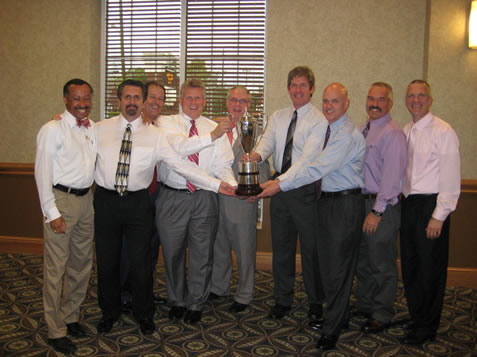 Founding Brothers with Cheney Cup
With the Cheney Cup: Tony Marable, Mickey Williams, Todd Arrants, Randy Wilmore, Lee Wray, Hal Balthrop, Ken Adcox, Kell Stott, Mike Macendoe.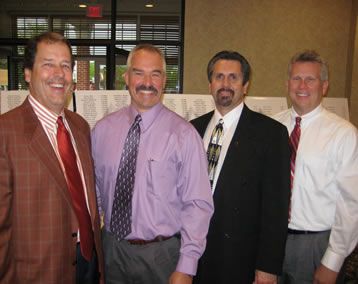 Right: Todd Arrants, Kell Stott, Mickey Williams and Randy Wilmore.
---